Dani's Agency is a professional talent agency representing Arizona's best talent. We're a cutting edge agency with the technology and talent to make us your first call when searching for actors, models or professional voice talent!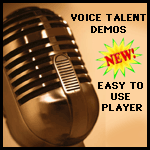 Each on-camera talent has their own website within the Talent Database that includes an info sheet, composite or headshot, resume, additional photos, digital video and stills, and some have acting demo reels and/or recent work online to help make your selection process even easier.




Dani's Agency is SAG-AFTRA franchised, bonded and has operated under the laws of the State of Arizona since 1987!
Follow Bill's Film & TV work on